Find your perfect .uk domain name
Simply enter a name in to the box below and we'll search for your .uk domain.
You can also enter an existing .uk name to begin transferring it to us.
1 Year
£9.95/year
2 Years
£14.95/2 years
Your trusted .UK domains partner
With over 20 years experience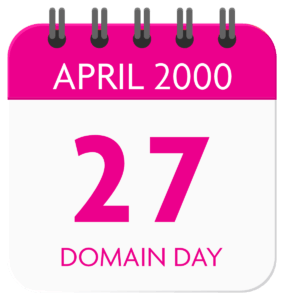 We registered our first of many domains over 20 years ago, since then we've helped 1000s of customers just like you to manage their domain portfolios.
We're an accredited channel partner with Nominet for .uk domains, as well as being one of the longest standing members, joining in July 2000.
Which .uk will you choose?
What domain will you choose to make your home on the web?
.uk
The top of the tree, a .uk allows you to have an even shorter and more memorable name.
.co.uk
The original .uk address, .co.uk is used by businesses and individuals.
.org.uk
It's all about charities and non-profit groups over on .org.uk
.me.uk
It's all about you. .me.uk is an ideal domain for your personal site or blog.
.ltd.uk
For Private Limited Companies registered with Companies House.
.plc.uk
For Public Limited Companies registered with Companies House.
Frequently asked questions
Do you charge a fee to transfer a domain elsewhere?
2021-02-22T12:50:30+00:00
No we don't.  We won't charge you anything to move your domain name away for us, it is your domain name after-all, not ours.
The only exception to this is if your domain has expired, as most registries won't let us transfer an expired domain name.
Will you remind me when my domain needs renewing?
2021-02-22T13:32:54+00:00
Yes we will.  We send out reminds about upcoming domain expiry at:
90 days before expiry
60 days before expiry
30 days before expiry
14 days before expiry
7 days before expiry
Will my domain automatically renew?
2021-05-12T16:53:10+01:00
Our default is to automatically renew on payment of the relevant invoice, this means that:
If you have a valid credit/debit card setup with our payment provider, Stripe then we will try and automatically renew your domain name for you.
If you pay the invoice for the renewal before the domain expires, we will renew it.
Automatic renewal attempts can be turned off for individual domains from within your control panel or by contacting us.